How to unlock your Nokia 6300 - Using the unlocking codes
Help & How ?

What is needed?

To unlock your 6300 from it's current network you need an 'unlocking code' that is unique to your mobile.

On correctly entering this code your phone will be unrestricted and allow you to use any mobile network in any country.

We can supply you with this unlocking code, for more info, please click the green 'Order ...' bar to the right to reveal the list of networks.


How to enter the unlock code.

We aim to provide accurate instructions with every unlocking code and continually review them for accuracy.Please bare in mind, some menus you need to access were originally intended for phone engineers, hence they may seem a little strange.

Please have a look at our FAQ's for more help & see just some of the benefits to unlocking your mobile.

Please read these instructions thoroughly before you try to enter the unlock code.

There maybe more than one option available to unlock your 6300 and on some occasions you may need to enter more than one code.


Unlocking instructions
Order Network Unlocking Now - Click Here
Below is a list of United Kingdom networks we can unlock your Nokia 6300 from.
To order your network unlock online now, click the link next to the appropriate mobile network your
phone is currently locked to.
Networks
Price
Approx Delivery
Unlock Nokia 6300 from Orange
$40.05
10 days
Order
Unlock Nokia 6300 from Three
$49.37
5 days
Order
Nokia 6300




Nokia Cable Unlocking Service
Step 1: Download Nokia SL3 Unlocking Server Software

Download the Nokia SL3 Unlocking Server software: SL3_Unlocker.zip, You don't need to install this software.
( http://www.mobifreedom.net/cb/support/nokia/SL3_Unlocker.zip )
Unzip the file to your desktop ( or somewhere ) and leave for now.
Download and install the Nokia USB drivers from here: Nokia_Connectivity_Cable_Driver_7.1.69.0.zip
( http://www.mobifreedom.net/cb/support/nokia/Nokia_Connectivity_Cable_Driver_7.1.69.0.zip )
Note: Wait until the Nokia USB drivers are completely installed.
Once complete, reboot your PC then proceed to step 2.
Step 2: Checking the Drivers are installed and your Mobile is connected to the server.

Remove the SIM card and any memory cards from your phone.
Turn the phone on and Connect it to your PC using a standard USB cable.
When the phone starts, make sure you select PC Suite or Ovi if prompted.
The phone may ask to start without a SIM card, click 'Accept'.
Allow windows to install all drivers automatically
It's important to wait until all the drivers have finished installing.
Next, run the Sl3Logger.exe program previously extracted to your desktop.
Press the CHECK PHONE button to confirm the phone is connected to the server.
Enter your Username and Password and press the CHECK USER button.
( Please go careful when copying & pasting, you may grab extra characters )
Make sure credits have been assigned.
Proceed to step 3.
The Nokia SL3 'Unlocker' when Connected.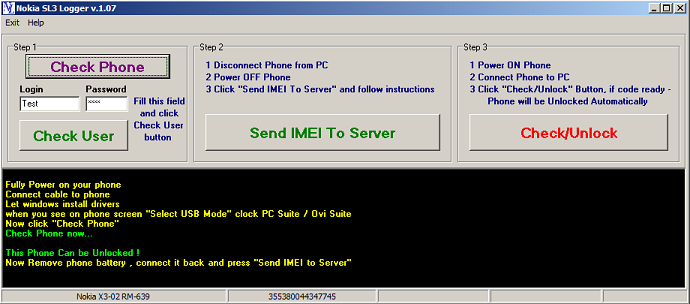 Step 3: Unlocking Part 1 ( Sending & Waiting )

Disconnect your phone from the PC and turn it off.
Next, press the SEND IMEI TO SERVER button and follow the software's instructions.
The software will confirm when it's been sent.
That's it for now, please wait while we calculate your unlocking code.
This process can take up to 6 hours to complete, depending on work load.
We suggest: after an hour do step 4, if not ready wait the full 6 hours .
Step 4: Unlocking Part 2 ( Unlocking the Phone )

Turn on your phone without a SIM or memory card.
Connect your phone to the PC using the USB cable.
Making sure to select PC Suite or Ovi if asked.
If they're needed, please let the drivers install automatically.
Finally, press the CHECK/UNLOCK button.
If it's ready, your phone will be automatically unlocked - The process is complete.
But if it's not ready yet, please wait a while and click again.

The Nokia SL3 'Unlocker' when completed.